Fashion Designing Syllabus
Syllabus for Diploma in Fashion Designing
is split into 3 modules. In the first module, you learn the basic concepts of designing, introduction to various parts of the sewing machine, different types of tools used for designing, how to cut patterns on paper, elements of fashion, the evolution of fashion, fashion cycle, basic embroidery stitches etc. This module also teaches you different methods to figure out common issues in a sewing machine and how to rectify them. Second module starts with the psychology of colours. Further you learn principles of designs exploring the history of various costumes in different parts of the World. It also covers different types of sleeves, collars, pockets, plackets, necklines, pleats and tucks. As you progress towards the 3
rd
module, you learn step by step procedures in a garment industry. By the end of this course you will be capable of designing and executing your own designs.
view detailed syllabus
Subjects in Fashion Designing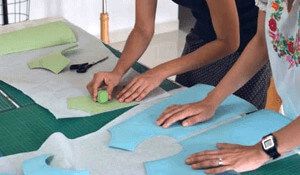 Pattern Making is the art of controlling, shaping and moulding a piece of fabric to comply with one or more curves of the human figure. It is the major bridge between design and production. It deals with patterns, grains and different formulae to make pieces of clothing for various body sizes. It starts with a prototype (sketch) which is turned into a garment via a pattern which interprets the design in the form of the garment components. It is very useful for mass production of garments as it is based on standard measurements and formulae. Pattern making helps you in obtaining a perfect fit for a garment and saves a lot of time for repeated usage. The procedure known as "Grading" can be used for making new patterns, proportionately larger or smaller in size which saves time and effort.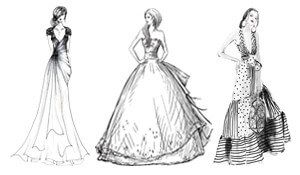 Illustration also known as Sketching or Fashion Illustration is the art of communicating ideas into a visual form with the help of drawings, sketching and coloring. As soon as an idea develops in the mind of a fashion designer, he sketches it on a piece of paper. Further necessary changes are made to this sketch, to form a perfect design. This illustration makes it easier and helps to communicate your ideas with your team. It helps in reducing wastage as designers visualize thoughts and make alterations before going to actual clothing. Flat sketches are black and white drawings of garments with details like stitching, styling etc and later the colors are added to represent the complete garment. Nowadays Adobe Illustrator is included as the part of Computer-aided design (CAD) that helps artists to create professional standard vector graphics.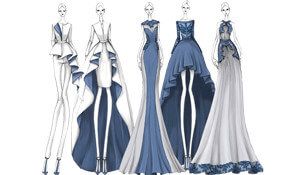 The term Concept in Design Concept literally means an abstract idea. But for designers, it is a set of steps of how to ideate a design. It involves research, analysis, visualisation and thorough understanding of the customer. Design concept helps you in developing design strategies to approach garment design in a conceptual way. It allows you to understand a variety of design processes which enhances your imagination to create better designs. Through discussions, conceptualisation and inspiration you gain ability to visulize a garment 3-dimensionally and helps students to think and re-explore conceptual design ideas with respect to the current fashion trends.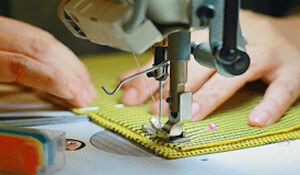 Clothing Construction also known as Garment Construction is basically the skill to sew a garment. It requires in-depth knowledge about fabrics, principles of construction to make it fit well. A costume is constructed by cutting the fabric into different parts according to a finalised pattern which fit the human form and then joining the different parts together by sewing. Clothing construction includes cutting, pattern use, fabric layout, machine sewing, hand stitches as well as finishing to create perfectly good looking garments.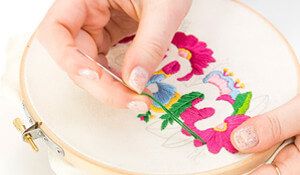 Surface Ornamentation is the decorative art used on the surface of the garment which makes the garment look more attractive and beautiful. The main idea of decorating fabric is to add an element of interest. Sequins, beads, threads, mirrors, wires, tubes, buttons, nets etc are the materials used to enhance the look of a costume. It not only includes different kind of traditional embroideries and stitches but also focuses on other areas like ribbon work, mirror work, fabric painting, warli painting, tie and dye, patch work etc. Additions to fabric can take the form of nearly anything, from the addition of pure stitching to other fabrics, glasses, precious stones, metals, wood and animal products.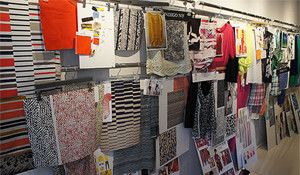 Textile Science deals with production and properties of various synthetic, natural fibres, apparels, fabrics and different types of yarns. It helps you to learn more about the manufacturing aspects of clothing and textiles. You also get an in-depth knowledge about the various testing techniquies for different types of fabrics. The other areas where Textile Science focus are sustainability, waste management and keeping the environment safe by the use of eco-friendly materials. When it comes to textile designing you also learn different types of printing and dyeing methods.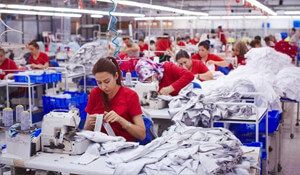 Garment Industry is the complete life-cycle of a garment. It is responsible for taking a raw material like cotton, wool or silk and spinning it into yarn that is later used to create a fabric. The process includes Spinning, Weaving, Dyeing, Printing, Finishing and manufacturing of garments. In this subject you get an in-depth knowledge about the flow in a garment industry starting from starting from the initial stages of sketching an idea or a design. The next steps after sketching are pattern design, sample making, creating production pattern, grading, marker planning, spreading, cutting, sorting, bundling, sewing, inspection, pressing, finishing, final inspection and packing.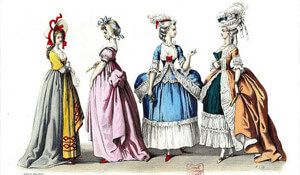 The evolution of costumes began when humans needed a layer of protection from the climatic changes. The Chinese and the Greek play a major role in the theory of Origin of fashion. People started using animal skin and fur to protect their body from the cold atmosphere. The history what we know today has emerged after a long process of evolution. The evolution of costume changed drastically after the 1st World War. History of fashion generally considers fashion synonymous with stylistic change. In this subject you learn the history of Indian costume and traditional jewellery. It also covers details about the history of French, Greek, Americian and Egyptian costumes.
REQUEST A CALLBACK
Let's start by sharing a few details...
Activities & Other Events
Brainstorming Sessions
Group activities such as Brainstorming are conducted to figure out a solution from generating ideas on a particular topic. Group activity makes it interesting as students join together to think critically and imaginatively to come up with solutions. Each student gets a chance to share his/her view points, discuss and clarify over other's thoughts. This helps in the development of practical thoughts and creative thinking which is most important to resolve issues.
Industrial Visits
Industrial visit is one of the most important part of the Fashion Designing course, during which students visit garment industries and get insight knowledge on the internal working environment of the company. It also provides an idea on how industries work and students learn useful information related to the practical aspects of the course which cannot be visualized from leactures in classrooms. It helps students to gain hands-on experience of the internal working environment. They learn how operations are executed in industries which resolve the gap between theoretical training and practical learning in a real-life environment. Students are also able to identify their prospective areas of work as they become more aware of industry's practices and regulations. Industrial visits widen the outlook of students with exposure of different roles in various industries.
Students Seminars
Students conduct seminar sessions which help them to attain information about the latest trends, designs and technologies in the Fashion Industry. They share their views and thoughts on topics outside the curriculum related to the Fashion World. It also is the right platform by which students can build skills for public speaking and presentations.
Mannequin Draping Session
Draping is a technique that has been used from a very long time. Draping is the art of transforming a fabric design into a three-dimensional form which is evolved and nothing is strictly defined. Draping is considered as a creative method of Pattern making as the designs come to life. Fashion Designers love the art of draping as they innovate the designs from design sketch.
View Draping Videos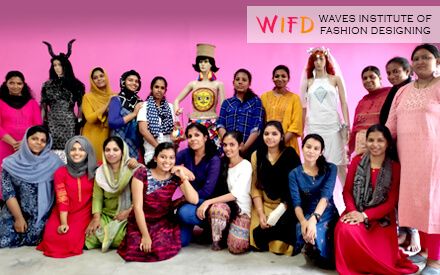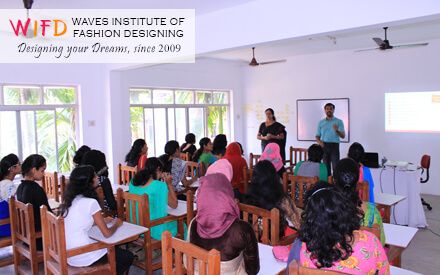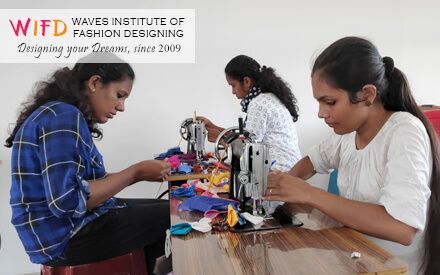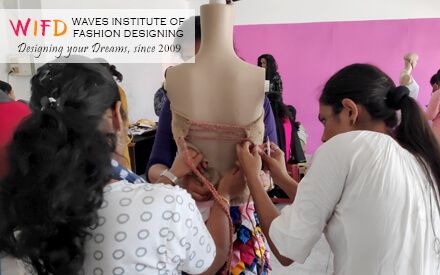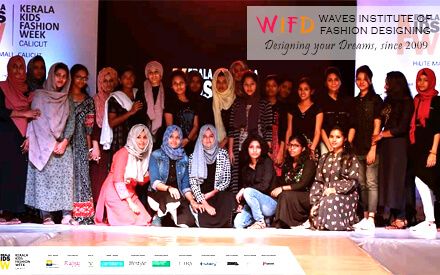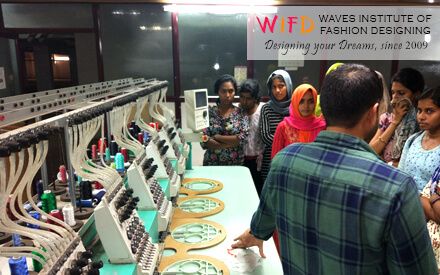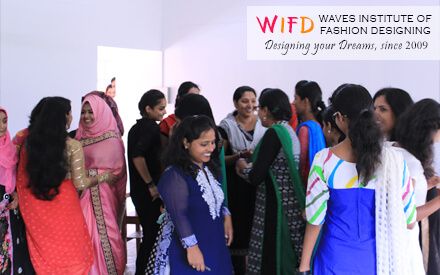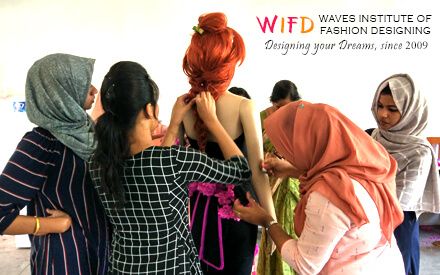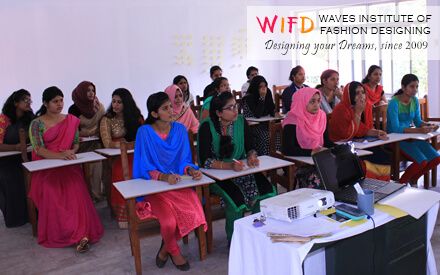 Detailed Syllabus for Fashion Designing
Module 1
Design Concept
Introduction
Elements of fashion
Fashion terminology
Fashion cycle
Illustration
Free hand sketching
Stick figure
Block figure
Fleshing the figure
Pattern Making
Standard measurements
Technical terms in tailoring
How to take body measurements
Child's bodice block
Different types of child's sleeves, collars, skirts, jump suit
Layout of frock
Surface Ornamentation
Embroidery stitches
(50 numbers)
Decorative stitches
History of Fashion
Introduction
History of Indian Costume
Traditional Jewellery of India
Clothing Construction
Sewing machine parts
Faults and rectifications
Sewing equipments
Basic hand stitches
Textile Science
Introduction
Fibre, Yarn, Fabric
Module 2
Design Concept
Colours
Psychology of colours
Elements of design
Principle of design
Illustration
Weight distribution
Draw head and hairstyles
Pencil shading
Textures
Dress draping
Pattern Making
Petticoat
Adult's bodice block
Different types of sleeves, collars, salwars, kameez, nighty, gown
Surface Ornamentation
Traditional handwork of different states of India
Metal Embroidery
Ribbon, Mirror Work
Warli painting and Tie & Dye
Clothing Construction
Different types of seams
Plackets, Pockets
Necklines, Pleats, Tucks
Textile Science
Fabric finishing
Methods of dyeing
Methods of printing
History of Fashion
History of Americian costume
History of French costume
Module 3
Design Concept
Silhouettes and figures
Classification of skirts
Necklines, collars, sleeves
Portfolio presentation
Garment Industry
Industrial garment production
Designing and marker planning
Merchandising
Quality controlling
Marketing & product costing
Illustration
Stylization
Colouring
Accessories
Basic garment shapes
Pattern Making
Sari Blouse
Kurtas, Pyjama
Gent's shirt and pants
History of Fashion
History of Greek costume
History of Egyptian costume
Surface Ornamentation
Different methods of Fabric painting
Clothing Construction
Garment stitching of saree petticoat, designer frock, skirt & top, salwar & kameez, sari blouse
Key Facts
Duration
:
1 year
Certificate
:
Diploma
Eligibility
:
SSLC / Plus 2
Type
:
Part / Full-time
Age Limit
:
No
Uniform
:
No
Hostel
:
Yes

Apply Online Now
FAQ - Frequently Asked Questions
How long does it usually take to complete the course?

You need to attend 10 months classes and the final examinations are usually held by the 12th month.

Is this course full time or part time?

Hey, you are lucky! We have both options for you. You can either opt for a full time or a part time course.

Does institute provide hostel facility for outstation students?

Yes, we provide hostel facility too. You can opt for within campus or outside campus hostels.

Are placements provided for students?

Yes, we provide placement assistance for students in well reputed firms in the fashion industry

Are online classes sufficient for learning Fashion Designing?

No, Fashion Designing is a practically oriented course. With the increasing popularity of the internet, many colleges are providing online programs. Online programs mostly focus on retail management, retail merchandising and business side of fashion. If your real aim is to become a fashion designer and showcase your talent to the world, a regular course has many advantages...

Benefits of Campus program over Online course

In-depth knowledge about textiles and fabrics
Learn mannequin draping and how designers drape a model
Hands-on experience with various tools used in the fashion industry
Group activity helps in understanding concepts better and faster
Interaction among students and faculty helps you in building creative ideas
Direct interaction between the faculty and the students during practicals
Immediate help is available for resolving doubts

Is prior knowledge in stitching, sketching or painting essential?

No, you can join this course even without any knowledge in stitching, painting or sketching. Every subject starts from the basics and with each module you advance towards the next step till you become an expert.
Get more course details
Please leave your comments, we love it..!
Hey, we have more amazing content on the latest Fashion, Trends, Paintings & Creative Arts, and now it's absolutely FREE for you. All you have to do, is just... We always respect your privacy!
Popular Fashion Quotes
" Elegance is elimination "
~ Cristóbal Balenciaga